Benefit from our large network and years of experience to hire the best interim professional for your project.
In an open economy and a dynamic market, companies must be able to quickly adapt to everchanging needs. Interim managers offer a great solution in such times. Interim managers can help you with implementing large-scale projects, and situations in which you are (temporarily) understaffed due to leave.
Interim professionals see the organisation through fresh, objective eyes and bring a lot of experience and specific expertise to the table. This helps you to stay ahead of the competition.
Key benefits of hiring interim professionals

Fast
Delivery
Our interim consultants will provide you with candidates within 48 hours.          

Plug &
Play
Interim managers can hit the ground running and provide immediate solutions

Bring in
expertise
Interim managers bring a wealth of experience from previous projects

Grow
your team
Interim managers can educate your team in applying new processes or systems
Why use our interim management solutions?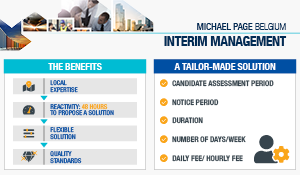 Download our brochure to understand the added value to work with freelancers via Michael Page.
Talk to our expert consultants
Our specialised Michael Page consultants know what makes a great interim manager. They will introduce you to the right interim professional to meet your needs.